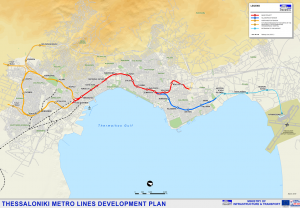 THESSALONIKI METRO EXTENSIONS – 1ST PHASE
EXTENSION to EYOSMOS & STAVROUPOLI
Beyond the Base Line extending from the New Railway Station to Nea Elvetia (9.6km long), which is under construction, the General Planning of Thessaloniki METRO provides for a series of extensions.
The initial Phase of the Project is completed with the addition to the base line of the extension towards Kalamaria up to Mikra Station, whose works are in full swing.
The 1st Phase of the Extensions includes the extension towards the northern suburbs of the city of Thessaloniki along Langada Street, which has already been designed at an advanced concept level, as well as the extension of the Project towards Eyosmos – Kordelio, whose conceptual design is in progress.
Under this framework, the planning is based on the fact that both extensions – under development – should serve densely populated areas of the city (in line with the population inventory data for years 2001 and 2011); in addition, the subject area should be suitable for the installation of a Metro System that presupposes high-density of buildings, and, thus, high demand for transfers.
To this end, ELLINIKO METRO S.A. is designing and suggesting a solution combining both individual extensions into a circular line of a unified form.
BASIC CHARACTERISTICS
Single-track TBM twin tunnels, 7.0m. inner diameter, approximately 2×11.0=22.0 km long in total, lined with precast segments made of reinforced concrete, 30cm wide;
9 new underground stations, approximately 60m. long each, about 22-24m. wide with a central platform equipped with platform screen doors and approximately 15-20m. deep;
New driverless train-sets, whose headway shall be calculated in connection with the headway of the base project;
The circular line shall be mainly served by Pylea Depot, for the extension of which to an adjacent area of Pylea all necessary actions have already been undertaken.
IMPLEMENTATION STRATEGY
Α. Execution of preliminary works
(Separate contract for the execution of PUO diversions, archaeological works, etc., in view of preparing the worksite areas)
Β. Acceleration of archaeological works
(Signing of a Memorandum of Understanding with the Ministry of Culture on issues of archaeological interest)
Strategy related to tunnel boring with TBM
Minimum number of TBMs: properly designed and manufactured Tunnel Boring Machines to cope with the anticipated geological and geotechnical conditions in the area,
Numerous "environmentally authorized" locations for the TBMs' start-up, transfer and extraction,
TBMs' "PRIORITY" strategy, allowing ELLINIKO METRO to optimize the construction method, by placing the priority on the tunnel boring with the TBM, BEFORE the construction of the stations,
IMPLEMENTATION INITIAL TIME SCHEDULE
Preliminary design phase
2012-2018       
Commencement of Advanced Concept Design
Execution of the 1st phase of topographical designs along the line to Stavroupoli and Evosmos, as well as of the 1st phase of geotechnical investigations (Extension to Stavroupoli)
Execution of the 2nd phase of geotechnical surveys (Extension to Evosmos)
Contacts and Consultation with Local Authorities
Tendering Phase
2018-2019
Documenting the planning for a unified solution, optimum location of stations, etc.
Contacts with Public Utility Organizations
Preparation of the Tender for Preliminary works
Management of Technical Risks
Completion of remaining Topographical and Geotechnical Surveys
Preparation of Environmental Impact Assessment Study