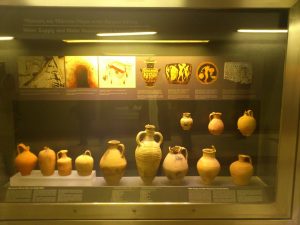 One of the unique characteristics of the Athens Metro is the fact that its construction was actually the vessel for the execution of large-scale archaeological excavation works. More specifically, in the framework of the Metro construction, the greatest archaeological excavation in the Athens area was carried out (spanning over an area of 79000m2), which revealed more than 50000 ancient articles.
From the early planning stages of the Project, the Ministry of Culture warned the designers about the massive presence of antiquities laying within the subsoil of Athens, as well as about the restrictions dictated by the obligation to preserve these antiquities. Thus, during the project's design and construction phases, the necessary provisions and modifications were made. The excavation, preservation, transportation and display of the ancient finds fall under the competency and the combined effort of three entities, i.e.: ELLINIKO METRO A.E. (AM) which is the Project Owner, OLYMPIC METRO Consortium (OMC), which constructed the Athens Metro Base Project, and finally the Ministry of Culture (MoC), which, according to the Greek legislation, has the responsibility and the supervision of all archaeological activities. The competent archaeological departments of the MoC supervised all phases of the archaeological works, while ELLINIKO METRO funded all archaeological excavations, while it also coordinated, in cooperation with the various contractors, all involved Authorities and Services.
Today, the ancient articles are in public display for the first time in six prestigious Metro Stations, inviting thus every rushing passenger, either Greek or foreigner, to examine and admire them.