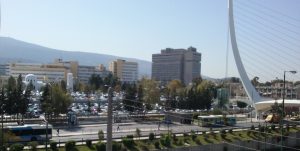 The said Transfer Station has been operating since 2004 and is located in the area of KATEHAKI Metro Station close to the 401 Military Hospital.
It includes:
An open-air car park area with a total capacity of 240 parking places.
OASA bus transfer station, where there are 2 bus terminuses (036, 402) while there are 7 bus lines passing through the tranfer station (Α5, Β5, 046, 140, 242, 409, 413).
In view of providing optimum operation and access to KATEHAKI Metro Station and to the Transfer Station, a pedestrian bridge has been constructed over Messogion Avenue, whose design was prepared by Santiago Calatrava, the reputed Architect.
The pedestrian bridge is user friendly, since it is equipped with escalators and lifts, while it signals the entrance to the city of Athens via Messogion Avenue.